Bobbi Maxwell has that voice that makes you proud to be an American.
Nana's fried chicken, hot apple pie with creamy vanilla ice cream, Bobbi Maxwell imaging your family friendly radio station……she owns that "it" factor which makes programmers sleep soundly at night. Bobbi's voice welcomes you into her home,  offers you some sweet iced tea and makes you want to stay a while……like forever.  She's sugar and spice and all things nice…….but also keeps a handle of Jack under the kitchen sink for late night…..and what happens in her kitchen, stays in the kitchen! 😘. Check her out for your AC, Hot AC, Classic Hits or Country signal. You'll be glad you did.
God bless Bobbi Maxwell and God bless America!
For rates and availability in your market, please contact hoss@hossmgmt.com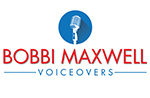 Click to listen to voice samples: