Brian "Tenacious-P" Peck was once described to us as the Rudy Ruttiger of Radio.
Brian "T-P" Peck, against all odds, at a radio station in Erie, Pennsylvania circa 1994, made it on the air for an amazing 27 seconds. It was an epic moment in broadcasting history during the final hour of the station's ratings period. A 9 share already in the bank, Peck closed out the broadcast with a local look at the weather…….."58 degrees and cloudy with a chance of rain"! He was carried out of the studio on the shoulders of the PD, GM & VP of Sales and soon thereafter retired to a successful career in voiceover! (Re-read that with John Facenda as the voice, sounds better).
The best word we can use to describe the man……..relentless. If you're looking for a voice guy to just read your lines and get it back to you as fast as humanly possible to get it on the air, sure he can do that, but he doesn't want that. The man is tireless. Works all hours, uber creative, smart. He could breathe new life into a Polka Oldies formatted station. Hospital radio, fuggetaboutit! He'd crush it. Brian's a maniac behind the mic and is built to super-serve his buyer base. Just ask anyone who has ever hired the guy………glowing reviews, the lot.
Brian Peck is dope……….(insert sound of mic drop here).
For rates and availability in your market, please contact hoss@hossmgmt.com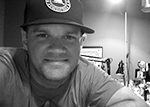 Click to listen to voice samples: