Kevin Mangan knew from age 9 he wanted to be in radio. Well la-di-frickin-da!
It all started on a cold, snowy afternoon in the frozen tundra (aka New Hampshire)…..ok, so maybe it wasn't snowing, but it was damn COLD! It was there that his dream of being in radio began and his life has been……well, he's in radio still. You probably get the picture.
*Warning: NERD ALERT!* As the years progressed, Kevin built a studio in his bedroom with a hodge podge of used gear from a stereo store (Best Buy didn't exist back then). He even built an "On-Air" sign out of a LiteBrite and put it outside his room. Fast forward to present day (please) and Kevin Mangan now works out of a sophisticated studio in sunny Florida, with a real "On-Air" sign. Fancy that!
Kevin Mangan is currently heard on stations from Maryland to Sri Lanka and many points in between. Kevin Mangan's mojo is a perfect fit for HOT AC, CHR, ALT and Country signals.
For rates and availability in your market, please contact hoss@hossmgmt.com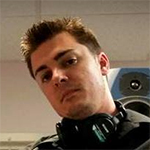 Click to listen to voice samples: