Bob Dunsworth's voice is an American treasure. What Cheerios are to cereal, Titlelist is to golf and Callahan was to auto-part sales, Dunsworth's voice is to our media.
With 10,000+ individual voiceover jobs under his belt, Bon Dunsworth is just getting warmed up. His father keeps a collection of his work; starting on reel-to-reel, hundreds of cassette and DAT tapes and finally more CD's than Prince had tucked away in storage. Thank goodness we haven't tipped his Dad off about .MP3 and .WAV files – we'd hate to be charged with the task of digitizing Dunsworth's voiceover career."
A baseball fanatic and total radio geek, Bob Dunsworth's been around the block (twice, in fact). Bob is well known to the radio community at large and perfectly suited to heritage All-American Classic Rock, Country, N-T-S and Classic/Adult Hits sticks. He's a pro's pro and knows how to win. Bob Dunsworth is John Deere meets Cadillac, with a pinch of Corvette and splash of Ford Mustang. He's an American voice for America's working men and women who love American radio. No need for a guarantee on this box!!!! LOL!!!!!
For rates and availability in your market, please contact hoss@hossmgmt.com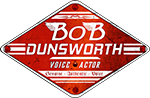 Click to listen to voice samples: