Everyone has that friend……the dude who always got the girl, aced the test, was the last guy standing at the bar and somehow the first man in the gym the next morning. The best wing-man any brother could ask for who never left you hanging. For HMG, Charles Everett is THAT guy. His only downfall in our opinion; he's a UCONN fanatic. If it were Duke, we'd have serious issues.
Charles Everett's voice (and face) is all over the television and radio. ESPN keeps a cubicle for him in their Bristol offices and his producers there adore him. Radio comes naturally to Charles; can't explain why, we won't even hazard a guess. He has the gift. If Charles Everett wants to get something all he has to do is try. Lucky man, lucky us.
If being super cool is your jam, check out Sir Charles Everett for your stick soon. He's cash money.
For rates and availability in your market, please contact hoss@hossmgmt.com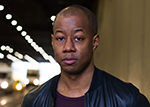 Click to listen to voice samples: