Drew "DC" Carpenter isn't a MARVEL or DC Comics guy, but we aren't going to hold that against him. Yet.
In and around radio since birth, Drew Carpenter is our only client to have failed out of college, on purpose, to get back into the production studio full time. T-O-T-A-L…..radio…..nerd!! Our kind of people.
Unbridled enthusiasm, a rock solid work ethic and a keen understanding of what makes great radio production epic, you won't find a talent happier to be associated with you and your station. The man's glass is always half full.
If your Country, Hot AC, Classic Hits, Modern Rock or NTS station needs a keen collaborator, Drew Carpenter's your man.
For rates and availability in your market, please contact hoss@hossmgmt.com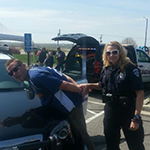 Click to listen to voice samples: