Gale Van Cott may look more Von Trapp than Von Dutch, but looks can be deceiving. She's got a voice and she knows how to use it! Watch out!!
A classically trained graduate of NYU's Tisch School of the Arts, Gale spent her early career on the stage, in film, and on television. Motherhood led Gale to the wonderful world of voiceover. She has not looked back since.
Gale gets to the heart of the matter, and brings a wholly unique and innovative skill set to our media.
A superb storyteller; smart, savvy, sexy and sophisticated, Van Cott's voice is versatile, and she isn't afraid to color outside the lines.
For rates and availability in your market, please contact hoss@hossmgmt.com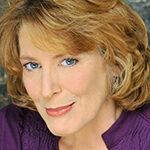 Click to listen to voice samples: