Howard Cogan………never heard of her!
We jest. Howard Cogan is to station branding what Tony-The-Tiger is to Frosted Flakes: they're both GRrrrrrEAT!
Howard may be the only v/o talent to have ever secured a $1,000,000.00 contract for his services. Pretty impressive for a guy who struggles to walk and chew gum at the same time. In the studio, off his feet, the man is masterful. Howard's off-the-cuff anti-announcer delivery, combined with his rich and resonant voice, has secured his place in the Voiceover Hall of Fame and his star on Hollywood Boulevard. Howard's voice defines greatness in Classic Hits, Adult Hits, Hot AC and he's just scratching the surface.
For rates and availability in your market, please contact hoss@hossmgmt.com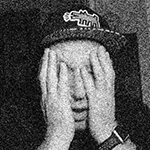 Click to listen to voice samples: