Don't let her sophisticated Wall Street/CEO look fool you: Janet Ault is undeniably chic yet unapologetically edgy (look closer: those Jimmy Choos are freakily fractured…).
Janet double majored (Zeppelin and Tull) at undergrad, got her masters from the School of Hard Knocks, smashed the glass ceiling and has kept soaring ever since.
Soft AC, AC, Rock, NewsTalk, Sports: Janet Ault = the remedy for what's ailing today's overworked programmer!
For rates and availability in your market, please contact hoss@hossmgmt.com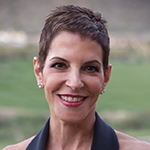 Click to listen to voice sample: