Jeff "Bell-Bottoms" Bell is part Stevie Ray Vaughn, part John Deere tractor and part Dave Grohl. When programmers ask for that supremely cool voice, look no further…….Jeff Bell's THAT guy. He's the Greta Van Fleet of voiceover.
Born with a rusty spoon in his mouth, Jeff's made his millions as one of the voice's of Ford……and his voice is BUILT……FORD…..TOUGH!
If your heritage Rock, Country or N-T-S station needs a man's man, Jeff Bell HAS to be on your radar screen.
For rates and availability in your market, please contact hoss@hossmgmt.com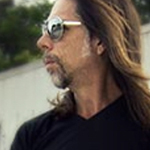 Click to listen to voice samples: