JJ Surma (JJ = Jumpin'-Jackflash, in case you were wondering) is someone HMG has been courting since the week we launched. To say that this goose is cooked would be the understatement of the century, but boy was it worth the wait.
JJ Surma is one of those guys who doesn't quite understand how wholly awesome he actually is yet and we can't wait for him to figure it out. Don't hold your breath programmers…….this could take a while!
If your NTS, Rock or Classic Hits station is in dire need of a fresh coat of paint, check out JJ Surma's work. He'll make your signal look (and sound) like the Sistine ceiling of radio.
For rates and availability in your market, please contact hoss@hossmgmt.com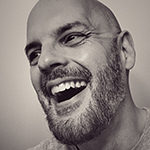 Click to listen to voice samples: