JJ Surma has gone from a PD's secret weapon to the industry's worst kept secret in just a few short years. One listen and it's easy to see why.
Combining an actor's skillset with a producer's mindset, JJ specializes in bringing a modern edge to formats that often need a shot in the arm: Newstalk, Sports and Classic Rock. And he does it without any drop-off in authority or punch.
Connect with JJ and expect a can-do attitude, client-focused collaboration, and zero time wasted sifting through excessive takes or "listen to my voice" BS — unless that's what you want! If your project calls for the big read, just say the word … and stand the eff back.
Find out what brand managers from coast to coast already know: if you want a signature sound who brings more than just good pipes to the table, you want JJ Surma.
For rates and availability in your market, please contact hoss@hossmgmt.com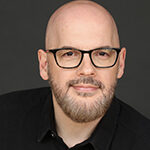 Click to listen to voice samples: