John "JC" Cruz p/k/a The Man Behind The Mic may well be the best looking v/o guy working today. Hands down. No contest. We win. The End. Everyone else can go home now!
But seriously, looks aside, John Cruz has honed his v/o and audio production skills for years working in radio, television and as an extreme sports promotion specialist; MMA, Motor-Cross, Monster Trucks, Westling. If you need it to be BIG, John Cruz is your man. Man-boy. Whatever.
If your NTS, Rock or Urban stick needs to be………BIGGER, John Cruz may well be your go-to-guy!
For rates and availability in your market, please contact hoss@hossmgmt.com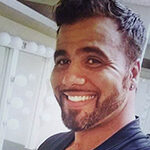 Click to listen to voice samples: