Voiceover work is very much like cooking: almost anyone can do it, but only a select few can make it delicious! This sums up KC Cady, in a nutshell.
KC's voice has been described as "Liquid gold, with a touch of bourbon" and "Regal". KC Cady's confident, conversational, real guy vibe coupled with his ability to instantly relate to your audience makes him the perfect choice for today's AC, Classic Hits, Country and NewsTalk stations.
When not in the studio, you'll find KC Cady in the kitchen, at the grill, on the road or entertaining. He works to live, and KC Cady is living his best life yet.
For rates and availability in your market, please contact hoss@hossmgmt.com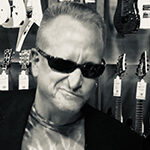 Click to listen to voice samples: