How many of us can claim we gave up a promising career in the NFL for a gig in radio? Not many. You'd think that person was either crazy or possibly the most awesome human ever…..right?
Well, that's our Kevin Collins. Wholly AWESOME!
A promising kicker (of all the positions, who'd have thought) in high school and college, Kevin Collins gave it all up to face his greatest fear….that of performing on air. Kicking a ball 50 plus yards with multiple 200+ pound men trying to knock your head off your shoulders…..no fear. However, overcoming that fear of being heard on air led to his life's greatest calling…….voiceovers!!!!
If your Urban, Urban AC, Rhythmic CHR or Sports station needs some courage to stand out in the crowd, Kevin Collins is your man.
For rates and availability in your market, please contact hoss@hossmgmt.com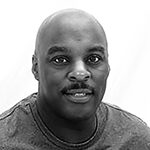 Click to listen to voice samples: