Rob Naughton hails from terrestrial radio's imaging trenches – total grunt. However, Rob's rags to riches story in voiceover came as no surprise to radio insiders, major market executives, talent agents and firms like ours. Rob's family, and radio runs deep with this one.
Naughton's unique delivery brings stations a fresh sound with enough swagger to stand out, while adding a versatile tool box of personality, attitude and near perfect ad/mad libs.
Successful in a variety of formats across North America and Canada, Naughton is equally in demand in parallel medias; launching video games, voicing SuperBowl commercials or narrating biographies with a gravitas akin to Morgan Freeman or Donald Sutherland.
Naughton's that interesting guy sitting on the next bar stool; genuine, experienced, worn, but not weathered, approachable.  Most notably, Rob knows how to make you laugh. Not the boring guy sitting around all day posting on Twitter or Facebook!!!
A radio client jokingly summed him up best  as "the guy walking away from an exploding car after tossing the match."
Should your Rock, Sports, AC or Hot AC stick be in need of a dose of cool, Naughton's ice cold.
For rates and availability in your market, please contact hoss@hossmgmt.com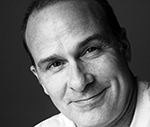 Click to listen to voice samples: