Rock-and-Roll Rebel Ron Peterson (R&R RRP for short 😜) is to voiceover what Rob Zombie is to metal: they are both destined for Cleveland baby! Cleveland, thank you very much, goodnight!!!!
All kidding aside, do not let Ron's "The Hills Have Eyes", WWE, bandana'ed look fool you. Ron is a total sweetheart of a guy, lives with his mom (down by the river) with his cat and Best of Breed Shih-Tzu, Honey-Bun.
Ron is ALL rock, ALL the time. If you need Marlboro Reds with JD straight up, Ron will be your man.
For rates and availability in your market, please contact hoss@hossmgmt.com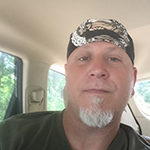 Click to listen to voice samples: