Radio imaging……for some, it's the final frontier of the voiceover business. ?. Hard to reach.
A successful voice actress in animation, commercials, narration and television promo, Sharon Alexander hasn't even tried that hard in radio and she's already killing it. What's her secret ? Special teas? Yoga? Voracious self marketing? Nope. None of the above.
It's really very simple mathematics; Sharon Alexander's voice and delivery are dynamic and wholly original. She's a mermaid. A magical creature with a set of skills that can't be learned or taught. She has that "it" factor that programmers are looking for to help make their station's stand out in a very crowded media landscape.
PLEASE do yourself a favor and listen. You'll be wowed. We certainly were.
For rates and availability in your market, please contact hoss@hossmgmt.com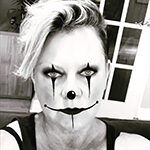 Click to listen to voice samples: