The Rooster has flown the coop!
Hatched in a foreign land and exported to greener pastures…The Rooster regularly seeks new places to roost-on-the-radio.
Cocky, self-deprecating and full of swagger, The Rooster doesn't discriminate. Having crowed commercials for those who can't control their bladders to guys who can't get it up…movie trailers, cars, pet food, and more, there's no question that The Rooster is multi-talented. But his true passion lies in making your station's brand soar above the rest!
High energy, charming, friendly; The Rooster delivers punchy imaging reads for AC, Country, Classic Hits and more. The chicks love him – and so do the hens! ? ? ?
Will The Rooster wake you up? Or, shake you up? It's your call.
For rates and availability in your market, please contact hoss@hossmgmt.com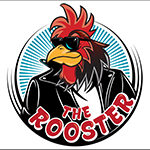 Click to listen to voice samples: