Tracy "TT" Thibodeaux should really be from Louisiana……we so desperately wanted to be able to say Geaux Tracy, Geaux! But….he's an Arkansas guy. Whether Razorback or Ragin' Cajun, it matters not. We love the man!!!!
Academically trained to be an educator, Tracy Thibodeaux fell into voiceover by way of the play-by-play announcer booth (football) and grew his v/o business organically over a glorious fifteen year broadcasting career. One gig led to two more, which led to ten more and so on and so forth. What's that old saying……."those who can't do teach"…….doesn't apply to this voice actor! Tracy's classroom is his studio.
If your Sports, Country, Classic Rock, Classic Hits or NewsTalk stick needs a reality check, listen to Tracy "TT" Thibodeaux. You'll be glad you did.
For rates and availability in your market, please contact hoss@hossmgmt.com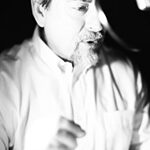 Click to listen to voice samples: