Venus Crute', simply known to the broadcasting world as VENUS, is an accomplished voiceover talent, TV & Radio personality, actress and singer with some serious pedigree.
The Voice of Venus has been heard on legendary brands including 98.7 KISS FM, WBLS, CD 101.9, WGHT and I-Soulradio.com as well as countless national and local commercials, documentaries, in television, film, and on the stage.
As the creator, executive producer and host of her own syndicated talk show and podcast "The R&B Bistro Up Close & Personal", Venus knows what it takes to be heard and win in today's highly competitive media landscape.
If your Urban, Rhythmic, R&B, Hip Hop or Smooth Jazz signal needs some soul, The Voice of Venus will give your ratings a boost that's just………heavenly.
For rates and availability in your market, please contact hoss@hossmgmt.com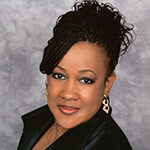 Click to listen to voice sample: