Wayne Scott shifts gears like a chameleon changes color…………seamlessly.
In v/o it is pretty common for successful branding talent to develop a keen interest in pursuing movie trailer voiceover work. In Wayne Scott we see the reverse. He's a v/o anomaly. Wayne Scott is Hollywood, all day long, yet he's as interested in radio branding as we are. Lucky us.
Wayne Scott's an artist. He sees scripts in 3D, IMAX technicolor: a way very few branding talent do. Send copy to have Wayne Scott demo with and what you'll get back will be beyond your wildest imaginations. Wayne Scott is that true voice artist, not just a voiceover.
For rates and availability in your market, please contact hoss@hossmgmt.com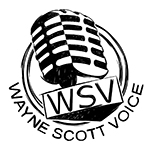 Click to listen to voice samples: