Because a Major League Baseball career didn't work out, Jeff "Miracle" Miles ended up using his voice to hit home runs.
Miles' batting average in v/o….pretty impressive. At the plate….not so much. What separates the men from the boys in baseball? Most will say the ability to hit a 95mph fastball. Our boy Miles was the Whiff King of The Minors. Good for us for in voiceover, not so good for the game of baseball.
With a voice better suited for the booth, Miles spent the next few decades post-baseball working on air and as a V/O artist. He found his lane, stayed in it and flourished! Good for him.
If you're looking for a voice with an edge, he's your man. Need an everyday dude to make your station relatable; Miles has got you covered. Rock, CHR, HOT AC, NTS…..Jeff Miles has got game…..just not on field. 🤣
For rates and availability in your market, please contact hoss@hossmgmt.com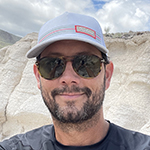 Click to listen to voice samples: