Rick "Rags-to-Riches" Lawrence has had one of those careers that's the envy of most men and women in voiceover.
Classically trained as a film and stage actor, yet willingly sucked into the worlds of radio and television, Lawrence was shoved in a booth at an early age and was told he couldn't quit.
Sink or swim, feast or famine, Rick Lawrence rose to the occasion, made his move to the City of Angels and crushed it; EXTRA, The Late Late Show, NBC, HBO, Disney Channel, movie trailers and more. Rick Lawrence did it his way!
If your Classic Hits, NTS or heritage station of ANY format needs a reality check, Rick Lawrence's authentic branding style wins the day.
For rates and availability in your market, please contact hoss@hossmgmt.com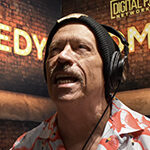 Click to listen to voice samples: