When not on his Harley or behind the wheel of a classic car, Flyin' Brian Landrum can be found behind the microphone.
With more years of broadcast programming experience than there are formats, in markets such as New Orleans, Atlanta, Nashville and many others, Landrum understands the needs of today's program directors and delivers high quality imaging no matter your format.
Brian's voice has been heard on Country, Classic Hits, Rock, News-Talk, Contemporary Christian and other stations as well as on ads for major companies such as Coca-Cola, Cracker Barrel and many other brands worldwide.
For rates and availability in your market, please contact hoss@hossmgmt.com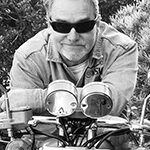 Click to listen to voice samples: