Little known fact for everyone to think about and process; creative directors, who then become program directors, who have great voices…..if they play their cards right they end up printing money in our business. The proof is in the pudding and most of them know who they are, out there in radio-land.
Enter Steven Patterson. A college graduate with a degree in Communications, Radio, Television & Film, Steven got his start in radio as an Imaging Director and painstakingly followed the path outlined above. He's written for, produced, programmed AND voiced successful Rock, Country, Alternative, Classic Hits, Oldies, AAA and Classic Rock stations. The man is a beast!
Everyone in radio has an internal opinion of who and what they are; what they bring to the table and what their brand identity affords. Steven Patterson has a knack for radio station branding like no other and can translate who YOU are in an entertaining and instantly memorable way.
Steven Patterson is here to minister your terrestrial radio station message, with authority! The man understands radio and gets what it takes to win in 2021 and beyond. Simple as that.
For rates and availability in your market, please contact hoss@hossmgmt.com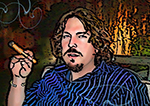 Click to listen to voice samples: