Greg Jake's radio history began in the booming metropolis of Mesquite, Texas…and went steadily downhill from there. ?
Greg's radio chops led him to other classy gigs; at bowling alleys, bingo halls, batting cages and most notably….Greg being hired as a chicken catcher for Tyson Foods?!!!! Greg Jake's commitment to radio as a career and its financial rewards were most evident! "
Landing at KISS/Dallas for a stint, Greg Jake's voiceover career finally took off;  and a handful of radio hirings and firings later (sounds familiar) he's not looked back since.
If you're looking for authentic, stop looking now. You've found it, him……Greg Jake's the real deal.
Greg Jake put's the "it" factor in sh*t…….wait, we meant grit!  Check it!
For rates and availability in your market, please contact hoss@hossmgmt.com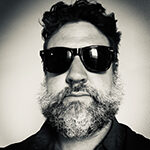 Click to listen to voice samples: