"The music business is a cruel and shallow money trench,
a long plastic hallway where thieves and pimps run free,
and good men die like dogs.
There's also a negative side".
Hunter S. Thompson
Keith Mannino had his day in the sun in the music racket, and while fleeting, he was in the light. Mannino's group, Black Market Radio, toured the US and South America before disbanding. He's worked for Lenny Kravitz, smoked hash with him too, and he's rubbed shoulders with the likes of Madonna and Chris Cornell. To say that Keith is super-f'ing cool would be the understatement of the century.
For most musicians voiceover comes naturally. The meter ticks in a similar fashion, especially in radio imaging. Keith Mannino's a total gear head, a cannabis legalization advocate and when not guiding his daughter Clementine through the perils of life in New Jersey you'll find him snowboarding, rock-climbing or skydiving in the remotest corners of the tri-state area.
Jersey strong, hard working, tattooed AF, great guy. Keith Mannino is rock solid; the very best of men.
Oh……., he's pretty hot behind the mic too! ?
For rates and availability in your market, please contact hoss@hossmgmt.com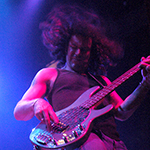 Click to listen to voice samples: