Lakes (not Lake) Webb has never lost a cat fight……..nor any fight that she's ever been in. She's scrappy. We like scrappy. ?
Lakes Webb puts the "IT" in bitch. Not really. She's adorable, just don't get on her bad side. Jersey born and bred, Lakes has been slaying it in voiceover for years, dates celebrities and eats investment bankers for lunch……did we mention not to get on her bad side? Her voice is money in the bank. If you think sex sells, wait until you hear Lakes Webb…….sold out!
If your CHR, Hot AC, Country or Rock station needs a badass "IT" girt to reel in listeners check out Lakes Webb.
For rates and availability in your market, please contact hoss@hossmgmt.com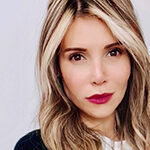 Click to listen to voice sample: