Bass, as in "Ace of", not the shoes, loves tacos more than Deadpool.
Dan "Bass" Levy's voice was Thunderstruck at birth. To keep his pipes as dense and juiced as they are Dan Levy's daily caloric intake is around the same as Michael Phelps' (10,000+). When you look up Creative Director in the radio broadcasting hall of fame directory, they use a picture of Dan Levy. Man is he ugly, but listen to his voice for 10 seconds and you'll quickly understand why the "Bass" gets work.
If your Rock, Sports or News/Talk signal needs attention, Dan Levy's ball-breaking brand will keep your listeners hanging around. He's heavy metal, locked and loaded..
For rates and availability in your market, please contact hoss@hossmgmt.com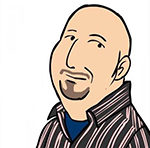 Click to listen to voice samples: