Nicole "Nine-Lives" Britton is everything feline. Meeeeeeow! Cat fight!
Part rockstar, part circus freak, a classically trained actress, an academic and super-mom, Britton got her chops wet fronting an alt-pop-rock band in the 90's and transitioned into voiceover for an easier, simpler life. Yeah right!
Having traded in her tour bus for a tube mic, Britton soon found fame and fortune in the cat eat dog world of commercials, promos, long form and animation. She's cute as a button with a voice to match; cotton candy and toffee'd apples with a peach schnapps chaser! She's pretty in pink and nothin' about her v/o style stinks. She's bubblicious!!!!
If your Top 40 or Hot AC signal needs a dose of adorable, Nicole Britton's your cat in the hat.
For rates and availability in your market, please contact hoss@hossmgmt.com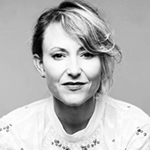 Click to listen to voice samples: