HMG takes great pride in our track record of helping creative directors retire and transition to v/o work full time. It's a process, and usually takes a few years before a v/o talent is ready to take that leap of faith. Ketch doesn't know this yet (don't tell him either please) but his destiny is already written in these stars. He's a creative genius, and better yet, he doesn't know it.
If your stick needs to be cool, different (dope, phat, money) AND have an edge, Ketch will blow both your mind and the minds of your listeners. You'll love the guy. We can't get enough of him."
Alt, Top 40, Hot AC, 80's…..whatever your flavor catch yourself some Ketch. 2019……Year of the Ketch!
For rates and availability in your market, please contact hoss@hossmgmt.com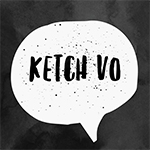 Click to listen to voice samples: