Frank The Brush, Carlo "Knuckles" Benutti and "The Voice", Albie Dee……it's no state secret that voiceover has a few made men within its ranks…..we're just happy to be on their good side, today. ?
Born in the Bronx, raised by his single mother on the mean streets of North Haven, Connecticut, Albie Dee, "The Voice" eventually turned his back on the family business (waste removal) and followed his childhood dream of being on the radio. From programming to production, sales, strategy AND voiceover, Albie Dee has done it all and done it all well. Fortune favors the bold, and Albie's about as bold as it gets. Fearless. It's in his Sicilian DNA.
Should your Rock, N-T-S, Country or Classic Hits stations need some protection, align your stick with Albie Dee.
For rates and availability in your market, please contact hoss@hossmgmt.com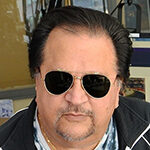 Click to listen to voice samples: