When it comes to highly successful male voiceover talent you can put almost every one into three categories:
A) Pains in ass. B) Royal pains in the ass, and C) Harry Chase.
Yes, THE one and only Harry The Hit-Man Chase, the talent who put the "ick" in……Richard ? has come back to the media where he started his illustrious career and intends to dominate his competition, once again.
Formerly the voice of everything; every cable network, every commercial campaign, every sport and everything else in voiceover, Harry Chase has now turned his undivided attention to the world of radio station branding v/o. Lord, help us all.
If your N-T-S or Classic Rock/Classic Hits stick is in need of an overhaul or a voice that reeks of legitimacy, Harry Chase will be your man.
For rates and availability in your market, please contact hoss@hossmgmt.com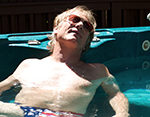 Click to listen to voice samples: