Father….author…..IRONMAN (athlete, not Marvel)…..Dartmouth College B.A……Columbia Business School MBA. W…T…F ?
Kari Loya is a BEAST! The man belongs on Wall Street, not in the dirty soft underbelly of voiceover that is radio station imaging…..yet here we are…..and boy, we are so glad Kari's with us!!!
Loya's got wanderlust in his blood. He's a renaissance man living in a modern world doing what he loves….and he LOVES to communicate…….in English AND Spanish! Promos, commercials, docs, video games, affiliates and imaging. Again, Kari's a v/o BEAST, we assure you.
If you like your branding talent Mensa smart with a dose of awesome, Kari's your man. Top 40, Modern Rock, Country, Hot AC…..Kari's got you covered.
For rates and availability in your market, please contact hoss@hossmgmt.com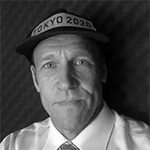 Click to listen to voice samples: