Dee "Ali-G" Alvis is voiceover Samurai. ? A true warrior…….fighter……..survivor.
Born in war torn Sri Lanka, raised on a steady diet of Rock 'n' Roll by his parents, Dee Alvis had nearly forty surgeries by the age of 13 to overcome spina-bifida.  Dee was the Forrest Gump of his high school sports program, until rock music and radio enveloped his life.
From a coveted internship spot at the world famous 98 Rock/Baltimore, Dee worked his way into our media doing anything and everything to build his name. Board op work, copy writing, on-air gigs and voiceover became his life…..and so it begins, like it does for so many of us.  Radio-flu-itis ?; it's a real sickness. He got it, still has it and we LOVE it!
Dee Alvis is hardcore and bad to the bone! If a dose of testosterone is needed to help boost your numbers Dee Alvis may be your joint. Booyakasha!!!!!
For rates and availability in your market, please contact hoss@hossmgmt.com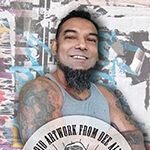 Click to listen to voice samples: